Retro Character Sprite Images in the Style of Chrono Trigger
Got an awesome birthday gift today from my friend, Jacob Kuntzman!
A lot of my writing has been honed and shaped over the years through my work developing an epic-fantasy novelization of the classic role-playing video game (RPG), Chrono Trigger, a project still alive at ChronoTrigger.com. For those who aren't familiar, this is a 1995-era SNES game, one of the most highly revered RPGs of all time. It was a much different time in gaming graphics, and back in this game the characters in game-play were shown as rather pixelated illustrations known as "sprites."
Sprites from Chrono Trigger are all over the internet, including my own full collection at the old CTNP website.
Knowing I would completely geek out over this, Jacob took the initiative of having sprites created for a whole bunch of my Heroes of Time characters. Here's the full spread: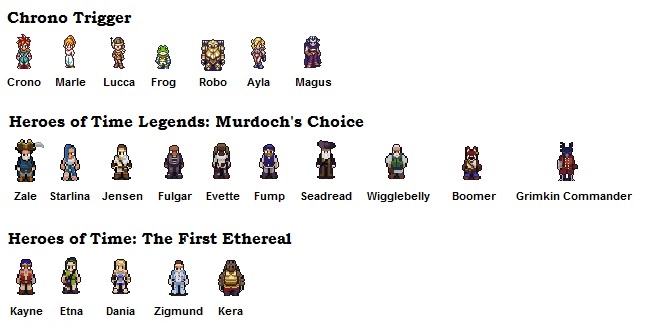 Isn't that awesome?!
So you can get a better look, the full sprites are below. Hope you enjoy!