About the Author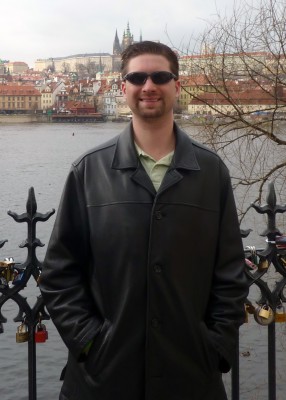 Hi, my name is Wayne Kramer. Nice to meet you!
I've always been a Hoosier, living my whole life in Southern Indiana. This is where I grew up, attended a small rural school system, and met my wife and best friend, Kaly. We've been truly blessed by God with an amazing family and great friends, and this is where we raise our three wonderful daughters. That, as all you parents of young children know, is a full-time job to itself!
Ambition has always described my nature, and I'm driven by a strong will to succeed in anything I do. The Chrono Trigger Novel Project is, of course, a prime example which defines a good portion of my current ambitions. Of course, I've had to make a living outside of CTNP, so my work fills up the rest of my daily responsibilities. To that end, I have over 18 years of experience in the medical imaging equipment field, in which I have my own business named W7 Global (www.w7global.com). We are blessed with great success and reputation in this field. I personally am fully committed to CTNP and all the opportunities and responsibilities therein that arise from the project's successful development.
From early on, writing has always been one of my favorite things to do. Throughout school, I always took a special interest in English, especially when it came to creative writing. Growing up, I was an avid participant in the Pizza Hut BookIt! Program, and I continued my interest in writing through the Young Authors contests that extended through middle school. Chrono Trigger captivated my interest and began shaping my writing as early as the 8th grade, back in September of 1996. (See also the About the Novel page for more details about its history.) Over all the years that followed, I would continue growing up both in skill and aspiration with the Chrono story. Looking back, the evolution of the novel from its start to where it is now is quite a fascinating one. All along, I have really used the Chrono Trigger novel and its many iterations as a vessel for shaping and refining my writing style into one that I believe people would now enjoy.
There are many accolades and achievements that I'm proud of throughout my life to date. While in high school, I was very active in the Business Professionals of America (BPA), where I eventually earned 2nd place at the National Leadership Conference in Anaheim, California in Database Applications (using Microsoft Access 2000). I was also a part of our school's Renaissance program for high-achievement students, Fellowship of Christian Students (also known as Fellowship of Christian Athletes, or FCA), and the Boy Scouts of America, where I earned the highest ranking of Eagle Scout. I also played trumpet and later baritone/euphonium in our school band, and it was actually in band that I met my wife.
I graduated from high school in the Class of 2001 and went on to the University of Louisville. A graduate from the U of L Class of 2005, I hold a Bachelor of Business Science degree in Computer Information Systems with a Minor in Marketing. That degree reflects my long-standing career interests in business and technology. I was already working a job (part-time, until out of high school) as early as May 1998, when I first started with my parents' company, C & G Technologies. This was what started my path in the medical imaging field, and for the next 15 years I was able to channel my passion into helping to make that company the best it could be. With the whole family onboard, my parents finally sold their amazing company in 2013. In the period of 2010-2013, my career took a tangential path into the field of licensed products and direct-to-consumer retail, which greatly advanced my professional experience and relationships within a different industry. Those ventures hit troubled times with the brands we were supporting, so I ultimately walked away from those. (Sometimes knowing when to quit is as important as knowing when not to.) Despite the stresses which accompanied those ventures, however, I found something truly contagious about the consumer and entertainment business as compared to the business-to-business world I was accustomed to. CTNP is a calling for me in that direction. (You can get a more detailed summary of my professional history via my personal LinkedIn page.)
I believe that CTNP has a purpose, and that I have a calling to fulfill that purpose. The Chrono story is itself purpose-driven, a tale which takes us down the journey of fulfilling a goal much greater than those fated to achieve it. What a great theme for this project.
Thanks for your interest in this project and me, your humble scribe. Hopefully I will have many continuing opportunities to interact with fans of the Chrono series of past, present, and future. Until then, God bless and may the hopes of tomorrow touch your heart, mind, and soul.